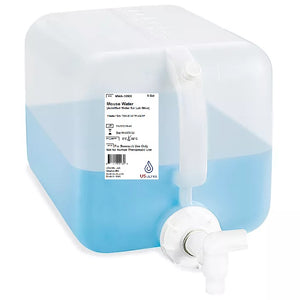 Mouse Water - Purified Water - 5 Gallons
Sale price Price $45.00 Regular price
Category/Type: Purified Water
Description: Acidified Water for Lab Mice
Applications: Use to provide water for lab mice.  Low pH water is bactericidal against Pseudomonas aeruginosa (an opportunistic pathogen common in water and other gram-negative bacteria.) Acidification is used to prevent the spread of bacterial disease among laboratory animals through drinking water.
Findings: Does the pH of drinking water affect immunosuppression in mice?
The pH of drinking water remains stable for periods of up to 90 days. The only significant changes produced in both immunosuppressed and normal mice with both anions were declines in weight gain and water consumption when the drinking water was acidified to a pH of 2.0. Some of the changes were greater in the immunosuppressed animals.
Production: We start with USP Purified Water.  Minerals are added to buffer the water. The water is ozinated prior to packaging. 
Quality: This water is manufactured at a cGMP compliant facility, located locally. The facility is registered with the FDA as a medical device manufacturer and is certified to ISO 13485 standards
Product Specifications:
pH 2.5 - 3.0  (at time of fill, pH remains stable for up to 90 days)
Conductivity 35-40 µS (95% calcium and magnesium)
Chlorides <100 PPM
Silica 0 PPM
Packaging Info: HPDE, FDA compliant, BPA free carboy.  Gradations by the half gallon.